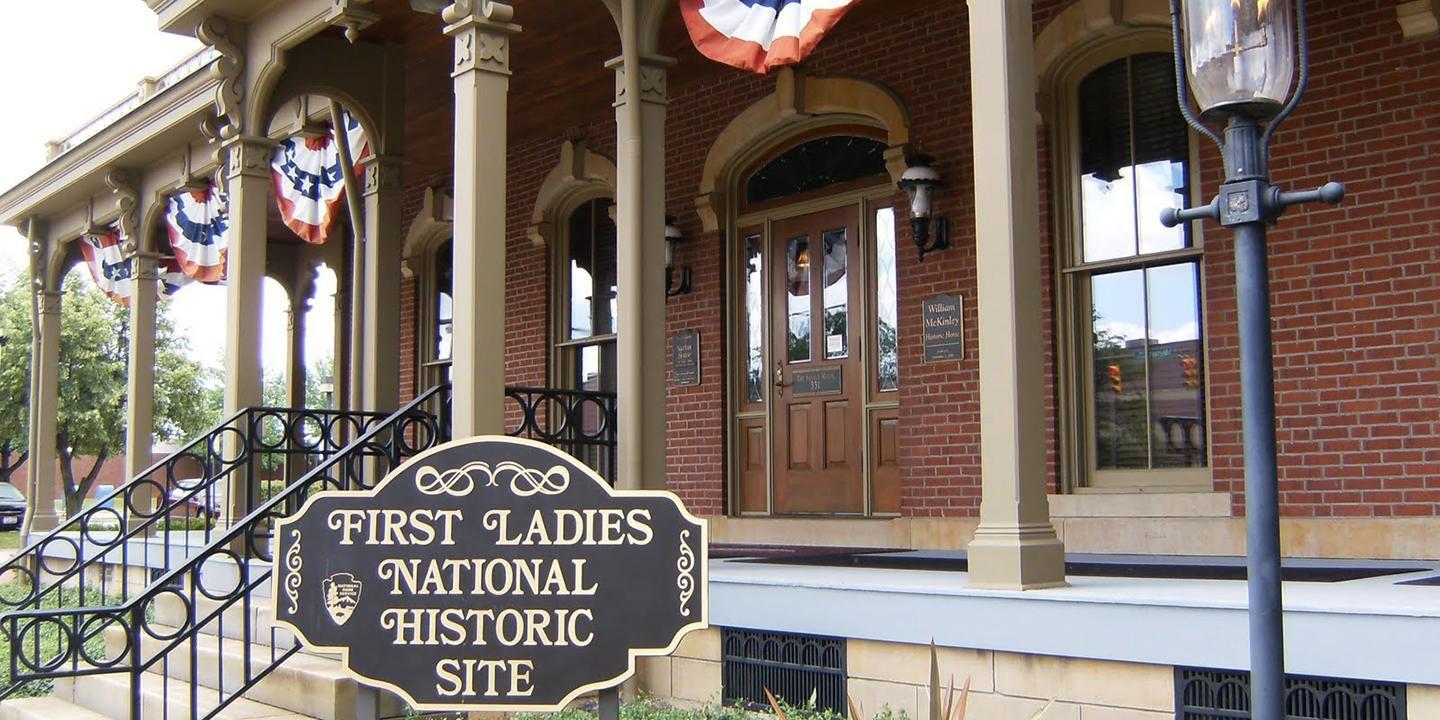 Heart of a Nation: America's First Ladies
The story of the National First Ladies' Library in Canton, Ohio, and the roles First Ladies have played in our nation's history are the subjects of a one-hour PBS Western Reserve production titled HEART OF A NATION: AMERICA'S FIRST LADIES.
HEART OF A NATION: AMERICA'S FIRST LADIES recalls historical moments in First Lady history through extensive video footage; a conversation with noted First Lady scholar Carl Sferrazza Anthony; a look into the First Ladies' room in the White House; and a visit to the National First Ladies' Library. The special also talks to the key players who created and operate the Library.
In addition, the special gives viewers a peek into the lives and legacies of the First Ladies through the Library's costumed docents. Speaking in the dramatic voices of various First Ladies, these docents transport us to times past:
Abigail Fillmore, portrayed by docent Mary Lou Nuzum, chats about the tradition of the White House china;
Harriet lane, portrayed by docent Linda Moorhouse, explains how the niece of our only bachelor president (James Buchanan) came to be our First Lady;
Frances Cleveland, portrayed by docent Cindee Frailly, talks about another First Lady – Caroline Harrison – and her contributions to the White House;
Eleanor Roosevelt, portrayed by docent Nan Johnston, recalls her years of travel and activism during her husband's presidency;
Ida McKinley, portrayed by docent Mary Cain, shares memories of her last few days with her husband, William, before his assassination;
and Martha Washington, portrayed by docent Johnston, describes her experiences as the nation's first First Lady.
Established in 1998 by founding chairperson and president Mary Regula and a committee of 12 women, the National First Ladies' Library is located in the Saxton McKinley House in downtown Canton. This unique facility, the childhood home of Mrs. McKinley, was created when Mrs. Regula, wife of 16th Congressional District Representative Ralph Regula, made plans to deliver a speech on Mary Todd Lincoln and could not find the library resources she needed to do her research. In HEART OF A NATION, she describes how she played with the idea of developing a library for many years, eventually gathering together other supporters to help her make the dream a reality.
One of the central components of the National First Ladies' Library is its Web site (www.firstladies.org), which features an extensive annotated online bibliography of First Ladies from Martha Washington to Hillary Clinton. Pat Krider, executive director of the Library, introduces viewers to the site with an online tour that reveals the impressive size and scope of this electronic resource.
HEART OF A NATION: AMERICA'S FIRST LADIES celebrates the first and only facility of its kind in existence—a library singularly devoted to the Iives and careers of our nation's First Ladies.
A PBS Western Reserve production, 2000.
About the library
Located in the childhood home of First Lady Ida Saxton McKinley, the National First Ladies' Library is the first and only facility of its kind. Serving as a unique national resource for patrons from school children to serious scholars, the Library operates both as a physical educational facility and an electronic virtual library.
Location
Saxton McKinley House
331 S. Market Ave.
Canton, Ohio 44702
Education and Research Center
205 S. Market Ave.
Canton, Ohio 44702
Phone
330-452-0876

Visit the National First Ladies' Library Online http://www.firstladies.org
The Library's scholarly centerpiece is a comprehensive, annotated bibliography of books, manuscripts, journals, diaries and other materials about and by the First Ladies. This bibliography, developed by noted author and historian Carl Sferrazza Anthony, is the only complete bibliography in existence on First Ladies. In fact, there is no comparable bibliography for information about our U.S. Presidents.
National First Ladies Library
Let's honor Women's History Month by taking a moment to recognize the remarkable women who helped shape this country, the First Ladies. Thanks to the National First Ladies Library for honoring these inspirational women, not only during the month of March but all year.